CELEBRATION FOR CHILDREN'S RIGHTS RSVP PAGE
The Louisiana Center for Children's Rights protects the rights of children in the juvenile legal system. We defend them in courtrooms, support them in schools, and provide them with the resources they need to grow up healthy and leave the system behind for good.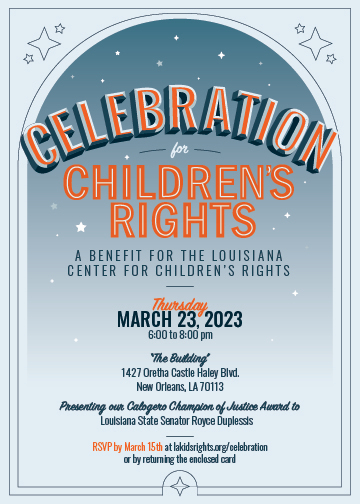 Join us on Thursday, March 23 (6-8pm) for this cocktail reception as we celebrate our successes and come together to make Louisiana a better place for all children.
We will also be presenting our Calogero Champion of Justice Award to Louisiana State Senator Royce Duplessis for his tremendous impact on youth justice in the state legislature.
This event will be held at "The Building," a beautiful gallery and performance space on historic OC Haley Blvd. Business or business casual attire preferred.
While there is no ticket cost, a donation of any amount is required to attend. Donate now via Venmo, Paypal, or LCCR's donation page.
Please complete the form below to confirm your attendance.
There are many ways to support this year's Celebration!
Celebration Donor:
Click here to donate now online.
You can also give by cash, check or credit card at the event itself.
Celebration Sponsor:
Click here to view sponsorship options, benefits, and a listing of this year's event sponsors to date.
Questions about making a gift:
Contact Ryan Hill, Development Director at 504-658-6862 or rhill@lakidsrights.org.
Special Thanks to our 2023 Host Committee:
Norman Barnum IV // Cyla Clark-Rome // Bo Farrell // Chelsea Hylton // Margaux Krane // Chari Lawrence // Barrett Macgowan // Sarah Omojola // Julie Thibodaux // Miles Thomas // Irving Warshauer // Peggy Welsh // Carlos Luis Zervigón
We wish to thank this year's sponsors and top donors:
Defender of Justice: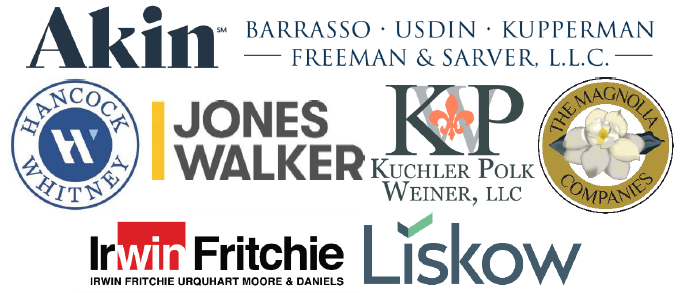 Gary Sernovitz & Molly Pulda
Conrad Williams Family Charitable Fund
Advocate of Justice: Anonymous // Baptist Community Ministries // BCBSLA Foundation // Blake Jones Law Firm LLC // Cox Communications Inc. // Diana & Sean Fisher // Lulu & Billy Freiberg // Gainsburgh, Benjamin, David, Meunier & Warshauer, LLC // Gordon Arata Montgomery Barnett // Donna & Jack Little // Sheldon Lykes // Mary & Dale MacCurdy // Miles Thomas Law LLC // Perrier Esquerré Contractors LLC // ResourceFull Consulting // Sessions, Israel & Shartle // Laurie & Paul Sterbcow // Anne & Quentin Urquhart // Linda Usdin DrPH & Steven Bingler // Lynda & Irving Warshauer
Benefactor of Justice: Adams & Reese LLP // Anonymous // Baker Donelson // Bernard & Franks // Greg Browne & Harriet Riley // Courington, Kiefer, Sommers, Marullo & Matherne LLP // Karen & Ollie Edmunds // Allison & George Freeman // Susan & Hervin Guidry // Susan Hess // Landis Construction Co. LLC // Liberty Bank // Matt Morrin // Nicole Newell // Sarah Omojola // PETERMAYER // Ava Rogers // Laura & Sonny Shields // Jackie & Bruce Shreves // Simon, Peragine, Smith & Redfearn, LLP // Sista Midwife Productions // Allison & Pierre Stouse // Villere & Co. // Miriam & Bruce Waltzer // Peggy Welsh // Sarah & George Young // Elizabeth & Carlos Zervigón
Fellow of Justice: Amanda & Ryan Berger // Anonymous // Kirsten & Alex Breckinridge // The Brogdon Firm // Wilfred & Hedy Duplessis // Ninette & Perry Eastman // Melanie & Ken Ehrlich // Maria Elliott & Michael Kuhn // Bo & Conway Farrell // Christina & John Fay // Councilmember Joseph I. Giarrusso III // Hampton & Harrison LLC // Alexander Kelso // Chari & Charles Lawrence // Susan & Andy Lee // Megan & Phil Lorio // Aimee McCarron // Kathy & Jerry Meunier // Toni & Joseph Rome // Steve Scheckman // Tatje Insurance & Financial Products // Alice & Bill Wright // Ellen & Marc Yellin
We also wish to thank the following for their partnership and steadfast commitment to our kids: