CELEBRATION FOR CHILDREN'S RIGHTS RSVP PAGE
The Louisiana Center for Children's Rights protects the rights of children in the juvenile legal system. We defend them in courtrooms, support them in schools, and provide them with the resources they need to grow up healthy and leave the system behind for good.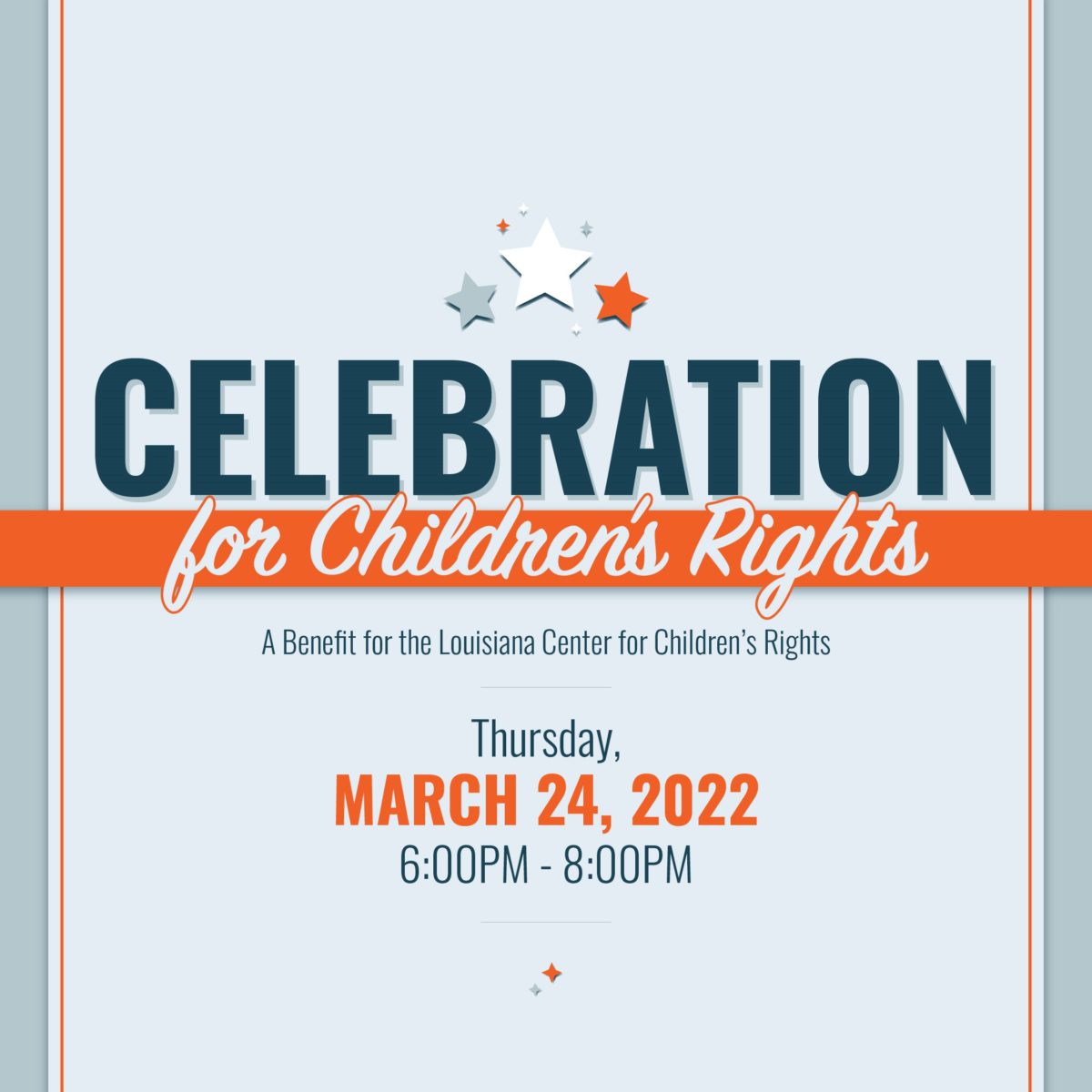 Join us on Thursday, March 24 (6-8pm) for this cocktail reception as we celebrate our successes and come together to make Louisiana a better place for all children.
We will also be presenting our Calogero Champion of Justice Award to Troi Bechet, Founder & CEO of the Center for Restorative Approaches for her incredible impact on youth justice in New Orleans.
This event will be held at "The Building," a beautiful gallery and performance space on historic OC Haley Blvd. For the safety of our guests and venue staff, proof of COVID-19 vaccination will be required to attend.
While there is no minimum cost, a donation is required to attend.
Please complete the form below to confirm your attendance.
See you then!
There are many ways to support this year's celebration!
Celebration Donor:
Click here to donate now online.
You can also give by cash, check or credit card at the event itself.
Celebration Sponsor:
Click here to view sponsorship options, benefits, and a listing of this year's event sponsors to date.
Questions about making a gift:
Contact Ryan Hill, Development Director at 504-658-6862 or rhill@lakidsrights.org.
Special Thanks to our 2022 Host Committee:
Troy Bell & Veronica Gillespie-Bell // Amy Bellone-Hite // Amanda Berger // Allison Freeman // Lulu & Billy Freiberg // Kit Fritchie // Honorable Susan G. Guidry // Andrea Manuel // Emily Palit // Allison & Pierre Stouse // Diana Turner // Peggy Welsh // Bri Whetstone // George & Sarah Young