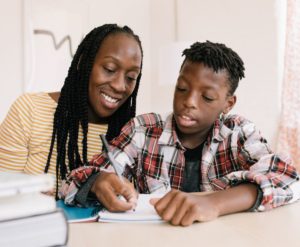 "Rickey" is an awesome 13-year-old who aspires to write rhymes and study art. But a mother struggling with addiction gave him little stability at home and even less adult supervision. At age 10, he started acting out at school and getting suspended. And with more free time on his hands, he began stealing things. Subconsciously, negative attention was still attention.
By 13, Rickey had already had multiple arrests. Handcuffing, processing, and jailing a child this young never helps and often exacerbates their struggles. There were multiple ways to respond to Rickey's misbehavior, but arrest was seemingly the only option tried.
With his latest arrest, Rickey's judge was adamant about sending him to prison. But his LCCR social worker, Lana, recognized the deeper issues Rickey was struggling with and fought for a different approach.
Working via videoconference (because of the ongoing pandemic), Lana and Rickey assembled a really strong release plan that included placing him to live with his aunt in Montgomery. Not knowing the city well, Lana did her research and found him a trauma-informed therapy program. She also helped secure his birth certificate and got him enrolled in school. With this plan established, Rickey's LCCR attorney, Michael, argued successfully before his judge to win his release.
Rickey has been out of jail since June and is thriving with is aunt. He's had no new arrests and is regularly attending school and counseling sessions. He's also bonded with his uncle, who has become something of a father figure for him. More importantly, though, he's happy.
Had Rickey received the proper support as he was clearly crying out for help, the root causes of his behavior would have been identified and addressed. Three years of arrest and detention did little to help Rickey until Lana was able to step in and stop the cycle. We're glad to see Rickey on the path to leaving the justice system behind. We couldn't be more proud of him!
For further reading, please see the recently published Platform for Youth Justice and its call to reshape the New Orleans juvenile justice system so that it supports struggling kids like Rickey rather than arrest and incarcerate them. Even better, sign onto the Platform as a supporter!