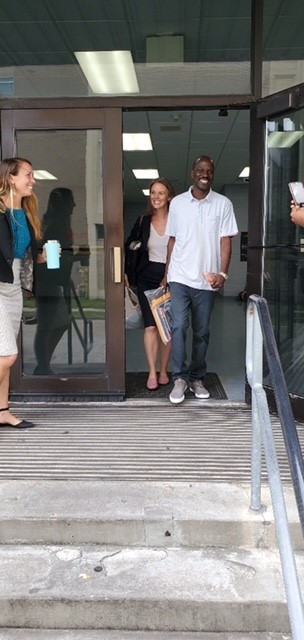 23 years ago, 15-year-old Terrence King was sentenced to die in prison. Yesterday, he walked out of the same courthouse as a free man, ending a long and tragic journey.
It began one day in 1998. Terrence was intellectually disabled – stuck in the 7th grade and reading at a 3rd grade level. Some older boys in the neighborhood convinced him to steal a car. He did.
When the police tried to pull him over for driving 10 miles over the limit, Terrence got scared. He didn't pull over but slowed down and stopped at all traffic signals. Three cruisers began pursuing him. Not knowing how to use his rearview mirror, Terrence turned his head to see the cruisers behind him. When he looked forward again, he was running a red light and heading straight for a car trying to turn left. Terrence slammed on the brakes and skidded 70 feet in an attempt to avoid colliding with it.
But it was too late. Four people (including three children) were killed in the crash, and another child was paralyzed.
Terrence was immediately overcome with grief over what he had done; the jail placed him on suicide watch. He was ultimately charged as an adult with four counts of manslaughter and convicted by a non-unanimous jury.
At his sentencing hearing, a representative of the victims' family testified that they did not hate Terrence or want revenge. Hearing this, Terrence rolled himself into a ball and rocked back and forth. When Terrence's mother spoke, he covered his head and sobbed. The judge sentenced him to 80 years in prison—20 years for each count to be served consecutively. This would all but guarantee Terrence would spend the rest of his life in prison. As he hugged his mother for the last time before being led away, he wept "I'm sorry, mama. I'm so sorry, mama."
Notably, just a few hours later, the same judge presided over a sentencing hearing for a 19-year-old who had killed another driver while drunk driving. Like Terrence, the 19-year-old cried throughout the hearing in remorse. Yet in this case the judge sentenced the young man to just two years of house arrest, saying, "I just felt like it was enough punishment. I don't think it would serve any purpose to put him in jail."
80 years in prison for 15-year-old Terrence, no prison time for the 19-year-old. One striking difference between the two teens? Terrence is Black, the other white.
For years, our Campaign to End the Extreme Sentencing of Youth team—led by Campaign Director Jill Pasquarella—has worked to correct the gross injustice of Terrence's virtual life without parole sentence by investigating, litigating, and negotiating his case. Partnering with the Southern Poverty Law Center, we assembled a brief on Terrence's behalf that moved prosecutors to propose a remedy that could result in Terrence's immediate release. This kind of thing never happens.
We took Terrence's case to the District Court asking for a new sentence of 20 years. At the hearing, Terrence expressed the extraordinary remorse he has lived with since the accident, saying, "If I would like to trade my life for theirs, I would do it in a heartbeat because my intention was not to hurt anyone."
The court denied our request.
Jill and her team appealed to Louisiana's Fifth Circuit Court of Appeal. Again, we didn't win.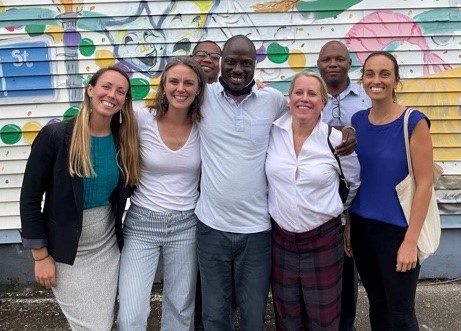 We couldn't give up on trying to rectify this injustice. We took the case to the Louisiana Supreme Court. In an astonishing victory, last week they ordered the district court to reverse its decision and resentence Terrence to 20 years. This made him immediately eligible for release.
Yesterday at about 5pm, Terrence walked out of court free for the first time in his adult life. Nothing can change the tragic loss of life caused by this accident, but Terrence's release puts an end to the cruelty of his sentence and allows him to live the positive, productive life he was never able to have. He no longer has his mother, but he intends to live a life that would make her proud – one aimed at helping others.
The family that Terrence had all passed away during his incarceration and he enters a world he doesn't know. While he has great support from the Louisiana Parole Project, he has no family support. If you'd like to help Terrence get on his feet, we have assembled a wishlist for him and a GoFundMe page.
Additionally, if you'd like to send Terrence well wishes, you can do so via postcard to Terrence King, c/o Louisiana Parole Project, PO Box 2029, Baton Rouge, LA 70821