Chantell was celebrating her birthday when she received the only gift she really wanted: news that her husband, Terrance Simon, was finally coming home. The next day, she wrapped Terrance in her arms as he stepped out of the gates of Angola, nearly three decades after he walked in.
Terrance was just 17 years old when he was condemned to die in prison. LCCR took up his case in 2019 when we began representing the vast majority of Louisianans sentenced to juvenile life without parole (JLWOP). His team helped win him a new sentence and, with it, an opportunity for parole.
When it came time to prepare for his hearing, Terrance was greeted by a familiar face. Shon Williams, LCCR's outreach coordinator, had been a close friend since they were teens. The two had arrived at Angola just a few months apart and stuck together for 25 years, when Shon became one of the first juvenile lifers to be freed from prison.
"We're like brothers," Shon says. "We came up together, looked out for each other, motivated each other. Our biggest thing was to educate ourselves so we could educate others."
That mindset is evident in all that Terrance accomplished in prison – earning hundreds of personal and professional certifications, publishing 11 books, mentoring others as a boxing coach, working as a health care orderly, and much more.
LCCR attorney, Kristen Rome, and mitigation specialist, Timothy Ambrose, collected and presented his extensive history to a judge and then to the parole board. They showed not only what Terrance had done in his 27 years of incarceration, but also who he had become – a man who, at the onset of the pandemic, volunteered to keep caring for the sick in the infirmary when the rest of the prison went into lockdown.
"If there were ever a chance I could change what I did, I would. But I can't," explains Terrance of his dedication to service. "So what I've learned to do is to try to pay it forward, to invest my time and energy to help others, to better their lives."
Kristen, who recently became the JLWOP legal representation director, hopes others will see Terrance's story as yet another example of the need to end death-in-prison sentences for kids.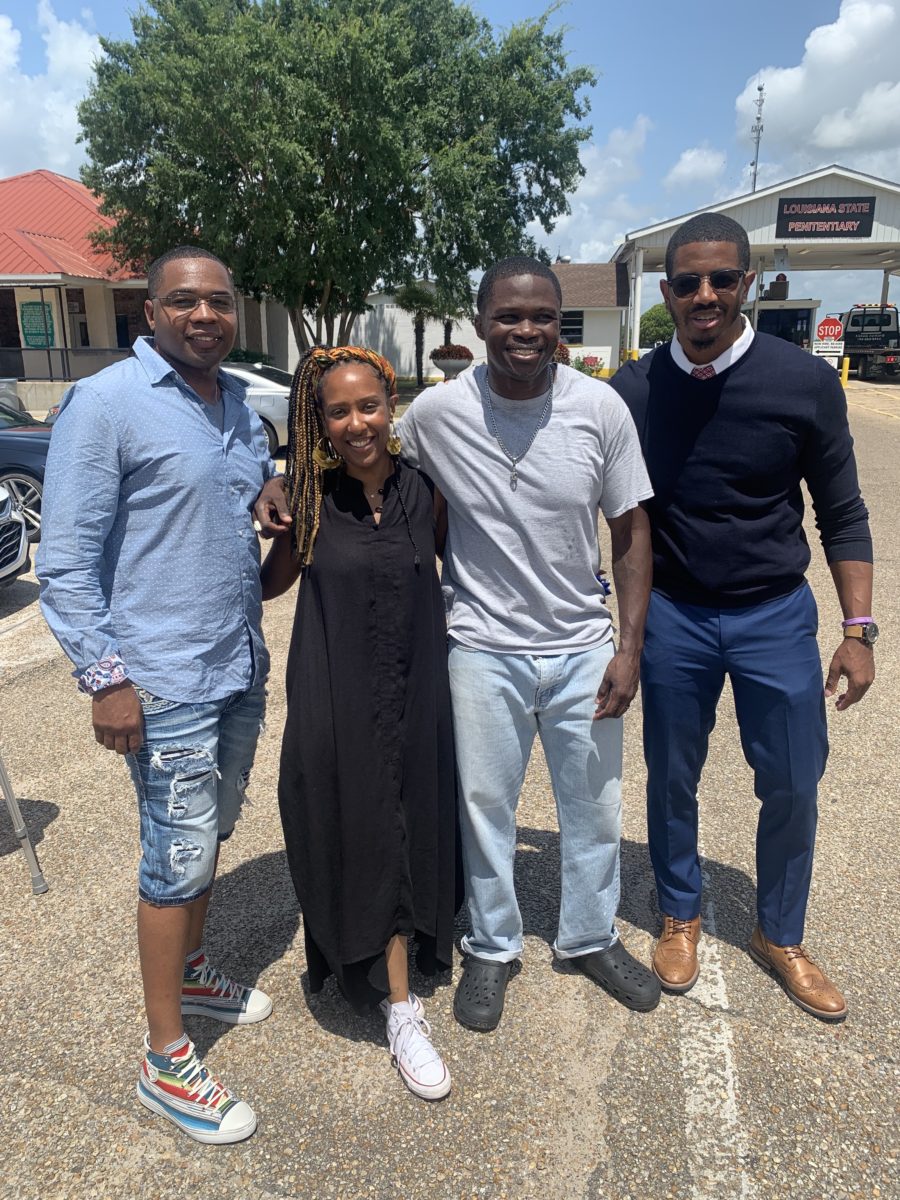 "Terrance is exceptional, but he is not the exception," says Kristen, referring to the dozens of juvenile lifers for whom prosecutors are still seeking JLWOP sentences.
"All of our clients were children when they were sentenced and are trying their hardest every day to make up for their bad decisions and to be something different. They should all have an opportunity for a second chance."
As for Terrance, he plans to complete a reentry program with the Louisiana Parole Project before heading home to settle in with his loving family, start a career, and keep helping others in any way he can.
"Terrance always says that he can't change the past, but he can help make someone's future brighter," says Timothy. "I can't wait to see what he does next."