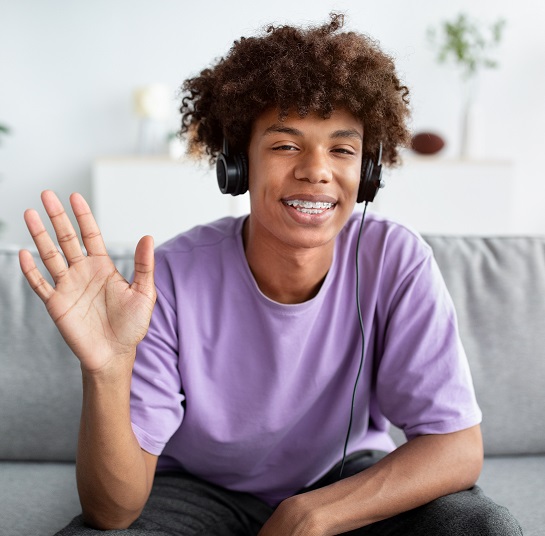 Earlier this year, LCCR's East Baton Rouge team met "Joseph," a 13-year-old boy who was arrested in 2020 for stealing a car. At the time, he said he was incredibly unhappy and trying to run away from his foster home. In jail, he became withdrawn and despondent, saying he felt hopeless—that his current situation would never get any better. Neither he nor his foster parent saw a path forward.
With his mental health declining, Joseph was transferred to an acute treatment facility. While there, Joseph's biological family were made aware of his situation and indicated that they wanted him in their home. He desperately wanted this as well.
Joseph's LCCR social worker, Nataliyah, assisted him and his family with the transition into their care. She and Ashton (LCCR youth advocate) regularly checked in with Joseph and his family, noting that he was smiling more and genuinely happy back home.
After a few weeks, the family reported that Joseph was doing well with the adjustment and that they just wanted their baby to be able to be a kid. Finally feeling safe, Joseph began to open up about some of his traumatic past experiences. He was already connected with Louisiana's Coordinated System of Care (CSoC), but he did not have a community-based mental health provider in place. Our team connected him with a counselor that's been a great fit. Joseph meets with her regularly and has learned new coping skills, like taking deep breaths and counting to ten when feeling angry or overwhelmed. He's also learned to better express himself through writing.
The family enrolled Joseph back into school. However, the school has difficulty implementing his Individualized Education Program (IEP). Our team informed the family about his education rights. Through several IEP meetings, Nataliyah and the family successfully defended Joseph's right to special education supports. Nataliyah also connected Joseph with a daily tutor, which has been enormously helpful. With his family and LCCR team behind him, Joseph began to thrive at school. He went from failing all of this classes to finishing out the school year with all A's and one B. Joseph was so excited to be promoted to the next grade. He felt like his hard work had really paid off.
This summer, at Joseph's first court appearance since these major changes in his life, everyone in the courtroom could see he huge improvement he had made. He was enjoying life, enrolled in school, and no longer feeling depressed and hopeless. When Joseph learned that full custody would be returned to his biological family and that his probation would be terminated, he raised his hands above his head and silently cheered with a beaming smile across his face.
After the hearing, Joseph said he was sad he would no longer have frequent check-ins with Nataliyah and Ashton. But he also reported that he never wanted to be in a courtroom again. With his new coping skills and drive to do well in school, we're confident Joseph will excel moving forward.