LCCR's fiscal year came to a close on June 30. Here's a quick look at what your support helped accomplish.
We're on the front lines every day, protecting the rights of young people impacted by the legal system:
Standing with Kids
LCCR attorneys defended the rights of 395 children (through 526 cases) in Orleans Parish courtrooms this past year. Meanwhile, our social workers and youth advocates connected our kids with the resources they need to grow up healthy and leave the legal system behind for good. Support from people like you helped: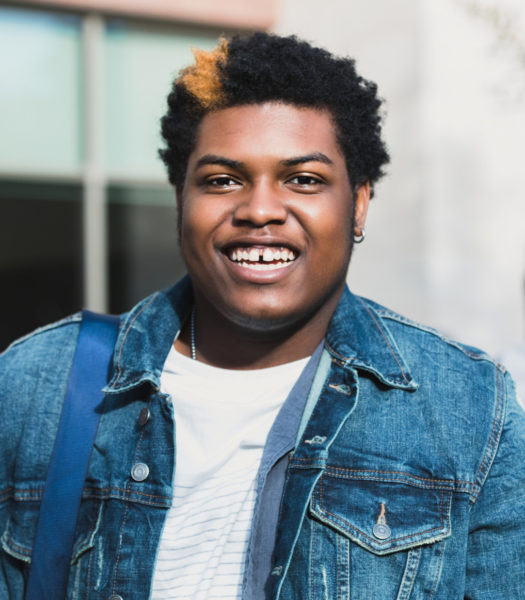 50 children enroll in school
20 children secure new or improved special education supports (IEPs)
21 children defend their right to an education in school disciplinary hearings
94 children connect with jobs or job training programs
10 children connect with mentoring programs
40 children access care for mental health and substance use disorder
Collectively, these efforts are helping kids like Calvin and Preston stay at home with family, remain in school without disruption, and see their prospects for success grow.
Accolades for our Advanced Advocacy Project
In May 2022, the Louisiana State Bar Association honored LCCR's Advanced Advocacy Project with its prestigious Children's Law Award, which is bestowed annually to an organization that is "leading the charge in closing the gap between needed [children's] legal services and available legal help through their pro bono service." We're thrilled to have our work in East Baton Rouge recognized in this way.
Advanced Advocacy has come a long way since we began our partnership with the East Baton Rouge Office of the Public Defender (OPDBR) back in October 2017. Through our housing of a social worker at OPDBR, we have brought our form of holistic advocacy to the juvenile division of that office. When we began, more incarcerated children came from East Baton Rouge than any other parish in the state.
Notably, in the years since, the East Baton Rouge juvenile incarceration rate has plummeted 48.5% — more than 4.5x the statewide decrease during that same period (2018-2021). While numerous factors can affect incarceration rates, we note that this decline began with our work there. And it was this success that enabled us to grow the project last year to a team of two social workers and two youth advocates. Collectively, our EBR team served 206 children in FY 2022, enabling kids like Joseph to grow up healthy and leave the legal system behind for good.
HUGE THANKS to the Huey & Angelina Wilson Foundation for its initial seed funding and continued support of this effort, DOJ's Office of Juvenile Justice & Delinquency Prevention for funding its expansion, and the Louisiana Public Defender Board for its partnership in supporting this project's success.
Striving for a Second Chance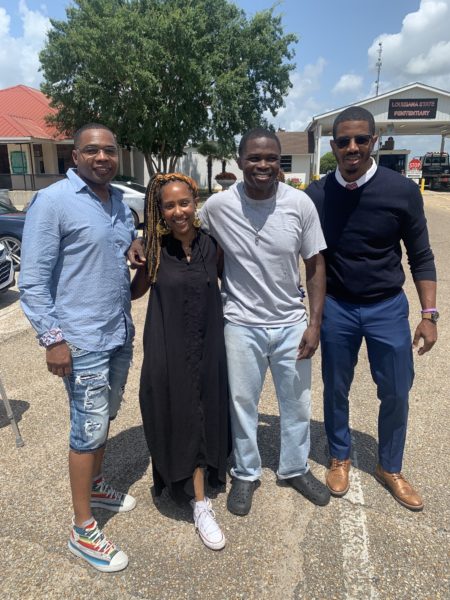 For the past four years, LCCR's team of Juvenile Life Without Parole (JLWOP) attorneys and mitigation specialists have worked tirelessly to represent children facing life without parole sentences, as well as adults previously sentenced as children to die in prison. We're the state's primary resource for this type of specialized representation, and for good reason: our team is incredible at what they do.
Over the past year, LCCR's JLWOP team won its first re-sentencing hearing for a client who was just 17-years-old when he was incarcerated with a life without parole sentence. He's spent the past 24 years behind bars. This victory means that, next year, he'll have the opportunity to go before a parole hearing and demonstrate the many ways he's changed for the better.
Additionally, our JLWOP team successfully prevented three children from being transferred to adult court, keeping them in a juvenile system better equipped to meet their education and rehabilitation needs. We also helped one client who spent nearly three decades at the Louisiana State Penitentiary at Angola (since age 17) gain his release back into the community, aiding with his transition and re-entry.
Notably, in our project's four years, not a single child represented by LCCR has been sentenced to life without parole, and not a single adult represented by LCCR has been re-sentenced to LWOP. In a state that has previously sentenced more children to LWOP, per capita, than any other state in the nation, that's a huge deal. We're meeting our clients where they're at and supporting them in securing the opportunity for a second chance.
We're transforming the juvenile legal system both locally and statewide:
Reigning in Solitary Confinement

We did it! Thanks in part to advocacy from the Louisiana Center for Children's Rights, House Bill 746 has been signed into law. As a result, Louisiana now has one of the strictest juvenile solitary confinement policies in the nation. Despite previous pledges to limit the use of solitary against children, the practice remained fairly commonplace despite its harms. Then a bombshell article came out in March (more below) detailing how children were being kept in round the clock solitary, defying all previous limitations on its usage. H.B. 746 now restricts the state's use of juvenile solitary confinement and requires the Office of Juvenile Justice to swiftly inform the parents and attorneys of children when it is used (with 8-hour limits on usage). This victory would not have been possible without the bill's sponsor, Rep. Royce Duplessis, LCCR's partners at the Justice & Accountability Center of Louisiana, Roots of Renewal, and Voice of the Experienced, and the young men who testified to the legislators about their personal experiences. Their voices made a huge difference in making this win possible.
In addition to this victory, LCCR was also successful at preventing several pieces of harmful legislation from moving forward this year, including what would have been a full-scale rollback of the Raise the Age law. This is no small feat given this year's hostile legislature being eager to prove it was adequately "tough on crime." More about this year's legislative victories can be found in our June briefing here.
Exposing a Secret Juvenile Prison

A strange thing happened during a review hearing for one of our incarcerated clients in August 2021. The child shared that he was being kept in a prison that neither our attorneys, the DA's attorneys, nor the judge had heard of. The facility wasn't listed on the Louisiana Office of Juvenile Justice website either. Up until that point, this new facility had been kept a secret.
The more we learned about this new juvenile prison in St. Martinville, the more we were horrified. There were reports of children being kept in round-the-clock solitary. Kids were being denied access to recreation and medical care. Kids were being shackled. Some were even beaten. Practically everything that was wrong with the youth justice system was happening at this one facility.
Shortly thereafter, we were approached independently by three reporters who were looking into conditions issues at Louisiana's juvenile prisons. We shared what we knew and suggested they work together. This culminated in the March 2022 joint-article between The Marshall Project, ProPublica, and NBC News which blew the lid off the horrors at St. Martinville. LCCR followed up the next month with a public briefing at the situation and call to end the practice of solitary confinement.
In the wake of this exposure, the worst conditions at St. Martinville have somewhat improved. Kids are no longer being held in extended solitary. Medical care and some rehabilitation programming has returned. Additionally, OJJ has reduced the total number of kids housed there. That said, LCCR will continue to push for closure. The St. Martinville facility was never designed to be an appropriate facility to house children. The sooner children are no longer being kept there, the better.
Going to the Mat for Special Education Services

Deficiencies at St. Martinville extended well beyond physical safety. We found that both OJJ and the Special School District, which provides special education to students enrolled in school in OJJ facilities, were consistently failing to adhere to the educational standards they are obliged to comply with, especially in regard to services for incarcerated youth with special education needs. Although these issues stemmed from OJJ's opening of the St. Martinville facility, they extended well beyond that facility. Specifically, both agencies had failed to develop and implement Child Find protections; failed to provide a "free appropriate public education" (FAPE) to students with disabilities; failed to provide students with an "appropriate secondary education"; failed to abide by procedural protections before changing the educational placement of students with disabilities; failed to hire qualified special education teachers; and failed to provide compensatory education to address learning losses caused by FAPE deprivations.
In response to these failures, LCCR and the Stuart H. Smith Law Clinic at Loyola University filed a formal written complaint in November 2021 with the Louisiana Department of Education against OJJ and SSD. In addition to outlining the above violations, we also recommended the following remedies: comply with the Individuals with Disabilities Education Act (IDEA) and all applicable state and federal laws and regulations regarding the provision of general and special education to students in custody—with specifics cited; provide compensatory education to all students with disabilities; develop a plan for ensuring no OJJ facility is established or used to detain children unless or until OJJ has made arrangements to ensure that educational services will be immediately provided upon entry; and develop a tracking system to identify which children in the custody of each OJJ facility has a disability under the IDEA and utilize the tracking system when children are transferred between facilities.
In January 2022, OJJ and SSD entered into a settlement agreement with LCCR and Loyola on a plan to remedy these violations. Since the agreement was signed, an independent compliance monitor has been selected and is in the process of reviewing materials and planning site visits. All this will help ensure that the rights of children to a proper education are firmly upheld.
It's been another HUGE year for Louisiana's kids. Your support made it all possible. Thank you!
FY 2022 Financials:
Click here to see what your support made possible in FY 2021.